Navigation
Aquamarine is the birthstone for the month of March. This striking gemstone has long been associated with health, hope, youth, and fidelity. Aquamarine rings showcase the stone's beautiful clarity and luster, making them a top choice for March birthday gifts as well as engagement and other gemstone rings. In this blog, we'll explore the unique appeal of aquamarine rings and why they remain an elegant and meaningful jewelry choice.
The Aesthetic Allure of Aquamarine
There are many reasons aquamarine rings have such enduring popularity and elegance. The cool, crystalline colors are universally flattering and give the stones a clean, pure appearance. While some gemstones have too much fire or brilliance, aquamarines have a more subtle radiance that lends itself well to jewelry. The hues range from almost clear blue to a seafoam green, accommodating personal tastes. Top quality aquamarines have excellent clarity, lacking inclusions that detract from their beauty. The rectangular or emerald-cut stones maximize light reflection. No matter the style, aquamarine rings showcase the gemstone's vibrancy and clarity.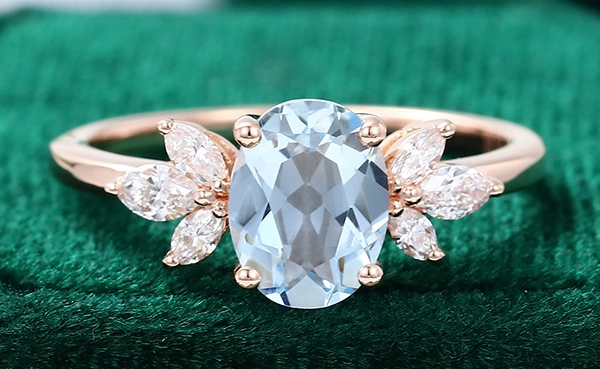 Why Aquamarine Is Good for Rings?
Aquamarine makes a meaningful choice for rings commemorating March birthdays. As the birthstone for March, aquamarine is believed to enhance courage, calm, and clear communication. Its soothing hues also symbolize youth, health, hope, and fidelity. An aquamarine ring reminds the wearer of these uplifting attributes. For engagement rings, aquamarine offers an alternative to a diamond solitaire with equally stunning sparkle. An aquamarine's clarity and color represent the purity and resilience of lasting love. Aquamarines' relative durability also makes them ideal for rings worn every day. Their beauty holds up well over decades. While less expensive than many gems, high-quality aquamarines impart sophistication. Modern or vintage, aquamarine rings have versatile elegance.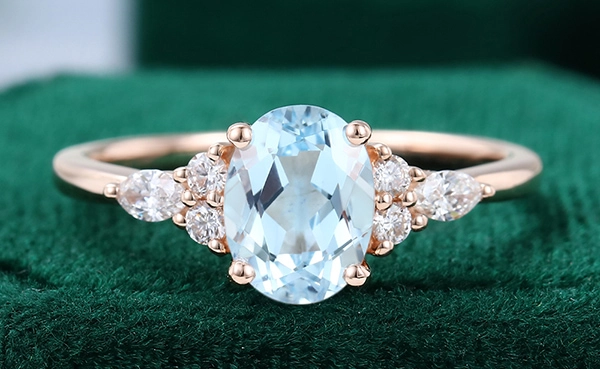 Aquamarine vs. Moissanite Rings
Aquamarine and moissanite are two dazzling alternatives to diamond rings. While both offer brilliance and beauty, key differences exist between these gemstones.
First, aquamarine is a natural stone, while moissanite is grown in labs. Aquamarine forms through natural geologic processes, making each stone unique. Moissanite is manufactured for jewelry use. However, today's methods result in near-flawless moissanites.
In terms of optics, moissanite has an exceptionally high refractive index, yielding unmatched fire and radiance exceeding even diamond. Aquamarine has a more subdued brilliance. Its softer glow flatters those who find the diamond's flashiness overwhelming.
For durability, both gems are quite resilient, especially compared to other light-hued stones. However, moissanite comes closer to diamond in harness and toughness. Aquamarine can develop minor scratches over decades of daily wear.
Color also sets the two apart. Aquamarine occurs in varying shades of rich, oceanic blues and blue greens. Moissanite is colorless to near-colorless, emitting rainbow sparkle. The choice comes down to preference for a bold color or pure white dazzle.
Finally, large high-clarity aquamarines can be quite pricey. Moissanite's affordability makes it accessible to more budgets. However, even small aquamarines make a luxe statement.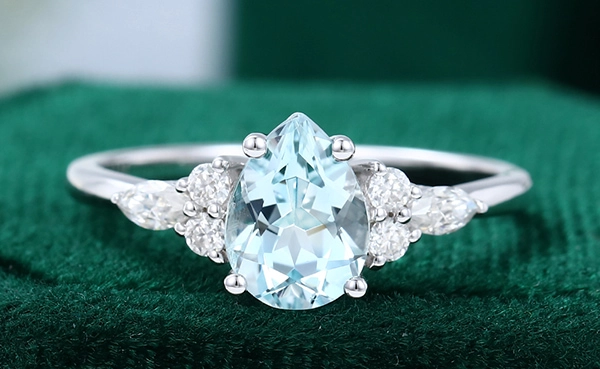 Tips for Choosing an Aquamarine Ring
Avoid stones with grayish, brownish, or greenish overtones – these indicate lower quality. The ideal aquamarine evokes the crisp color of sea glass.
Cut impacts sparkle. Oval, emerald, or rectangular cuts provide the most brilliance and life to an aquamarine. The long lines of these cuts maximize light refraction through the gem's facets.
Scrutinize clarity closely, since even small flaws distract from an aquamarine's allure. Minor irregularities are expected but make sure the overall stone has excellent transparency.
The setting deserves consideration too. A simple, classic metal setting allows the stone to shine as the focal point. Platinum, white gold, and silver complement aquamarine's cool blue tones.
For added luxury, choose a halo setting accented with diamonds or other gemstones. This amplifies the center aquamarine's radiance.
Overall, shop with trusted jewelers and insist on the highest quality, ethically sourced aquamarine in your price range. A ring displaying a top-grade aquamarine is an exquisite heirloom that will retain value and beauty over a lifetime.
Caring for an Aquamarine Ring
While durable compared to other light-hued gems, aquamarine rings still require some basic care. Following a few simple guidelines will maintain the ring's sophisticated elegance for many years.
Clean the ring frequently in warm water with a mild soap or jewelry cleaner. Use a soft brush to remove any grime around the setting. Ultrasonic and steam cleaners are safe options for aquamarines.
When wearing and storing the ring, take measures to protect it from sharp blows or pressure that could chip or fracture the stone. Aquamarine has excellent hardness but can still be damaged under excessive impact.
Store the ring in a separate compartment of a fabric-lined jewelry box to prevent scratching the stone on harder gems. Wrap in soft cloth for added protection.
Avoid exposing the ring to household chemicals, especially bleach, that can erode the metal over time. Chlorine from pools can also degrade mountings.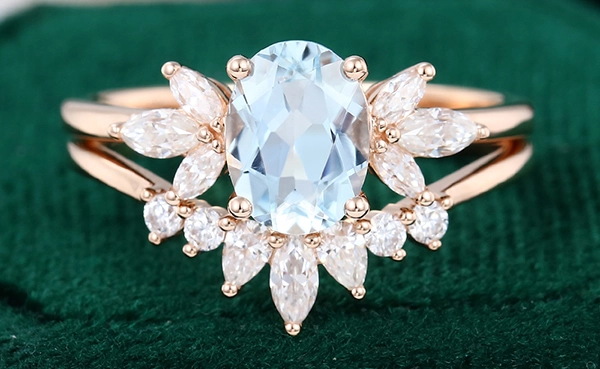 With occasional cleaning and cautious wear, an aquamarine ring will shine eternally. The subtle glow and meaning of an aquamarine ring make it an heirloom to pass down for generations.
Conclusion
Aquamarine rings have timeless beauty and meaning, making them appealing for many occasions. Whether given as a March birthstone gift or chosen for an engagement, aquamarine's lovely clarity and color shine eternally. With its array of sublime blue-green hues, the aquamarine epitomizes the elegance of springtime and renewal.
Read More