Navigation
Seeking an engagement ring that's unique and budget-friendly? It's time to go beyond the traditional diamond. Moissanite and topaz make stunning alternatives. But these dazzling gems have distinct differences to consider.
Let's compare the essential factors between scintillating moissanite and elegant topaz rings. Discover the best uses for each to find the perfect fit for your style and relationship.
Moissanite and Topaz: How Are They Made?
The origins of these two eye-catching gems differ significantly:
Moissanite was first discovered in 1893 by Nobel Prize winner Henri Moissan, who found tiny natural moissanite crystals in a meteor crater. Modern moissanite is grown in labs to replicate these exceptionally scarce natural gems at affordable prices.
Topaz forms through hydrothermal processes in igneous rock formations and is mined in many parts of the world, including Brazil, Nigeria, Sri Lanka, Mexico, and the United States. Different trace elements give topaz its signature blue, yellow, pink, and orange hues.
So moissanite is lab-grown, while topaz is an earth-extracted gem. If wearing a lab gem is important, moissanite has an eco-friendly appeal. But natural gem lovers may favor a mined topaz.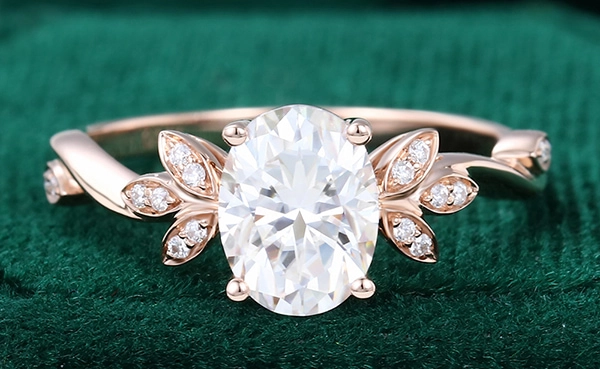 Durability and Wearability: Which Lasts Longer?
Durability affects how well these stones withstand daily wear and tear.
With a hardness rating between 9 and 9.5 on the Mohs hardness scale, moissanite is nearly as durable as diamond's hardest mineral. This extreme hardness makes moissanite suitable for wearing 24 hours a day without damage.
Topaz has a Mohs hardness of 8, meaning it's softer and more prone to chipping or scratching than moissanite or diamond. Protective settings like bezel mounts are best for topaz rings to prevent knocks against hard surfaces that could chip pavilion facets.
For lifelong durability, moissanite is the clear winner. But with proper care, topaz can also go the distance.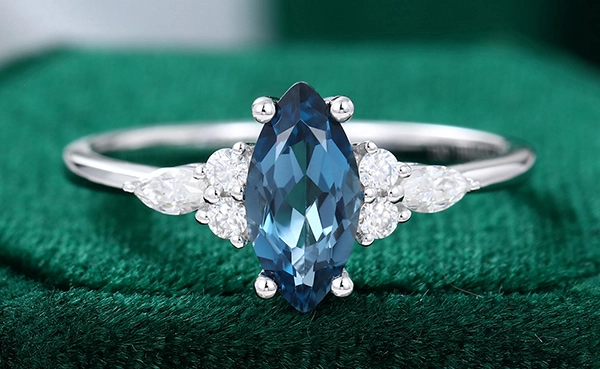 Appearance: Which Stone Has More Visible Brilliance?
Light performance greatly impacts beauty and sparkle.
Moissanite earns top marks in brilliance and fire because its refractive index of 2.65-2.69 exceeds even diamond (2.42). This means moissanite bends and reflects more incoming light, creating exceptional sparkle and rainbow flashes.
Natural topaz has its inner glow and luster but can't match the refractive abilities of moissanite. However, most commercial topaz undergoes irradiation and heat treatment to significantly improve its clarity and brilliance.
Moissanite takes the visual brilliance crown. But enhanced topaz also dazzles in the right cuts.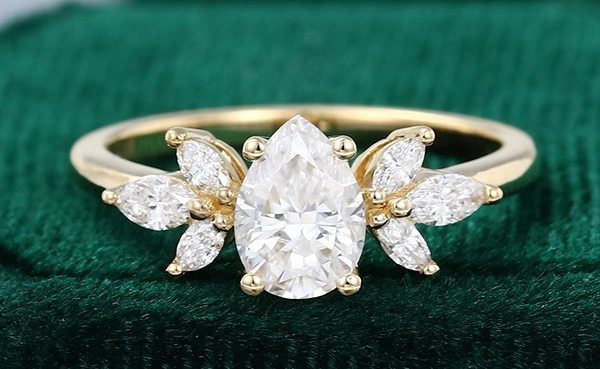 Affordability: Which Gem Gives You Bigger Carat Size for Cost?
Here's how these gems compare cost-wise:
Ounce for ounce, colorless moissanite is around 10% of the price of a comparable diamond in carat, cut, and clarity.
Even high-quality topaz costs exponentially less than a diamond per carat. Enhanced blue topaz is especially affordable.
Overall, moissanite gives you the most carat size bang for your buck. But topaz also lets you get a major look on a budget.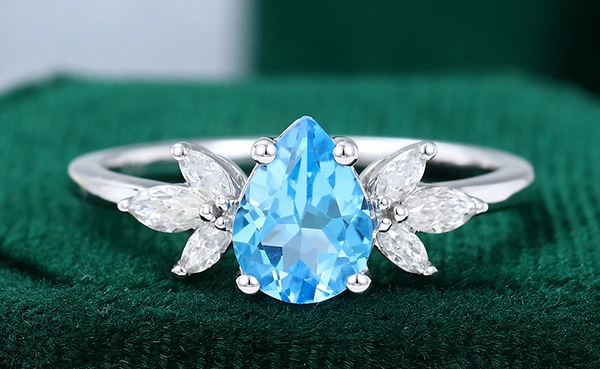 Customization: Which Gem Fits More Unique Ring Designs?
Let's look at the versatility of each gem:
Thanks to its affordability, moissanite unlocks more elaborate custom ring designs, like intricate halos, curved pavé bands, hidden side profiles, and multi-stone arrangements, even in large carats.
Design flexibility can be more limited in giant topaz carat sizes, but mixed accent stones, stackable bands, and other creative touches make the most of topaz without breaking the bank. More protective settings suit topaz.
With greater affordability, moissanite enables more elaborate designs. But topaz has its customizable charm.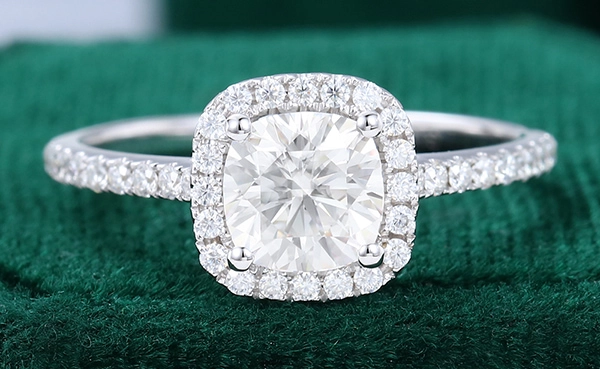 Meaning: What Does Each Gem Symbolize?
The symbolism and associations of these gems differ:
Since it is a newly emerged gem, moissanite does not carry deep historical or symbolic meaning. However, its futuristic origins and eco-friendly appeal can represent modernity, innovation, and forward-thinking.
In many ancient cultures, golden-hued topaz was tied to health, protection, wisdom, truth, and good fortune. Topaz's warm tone symbolizes joy, prosperity, confidence, intelligence, and friendship.
If you value traditional meaning, mystic topaz has the edge. The stylish spirit of moissanite speaks for itself.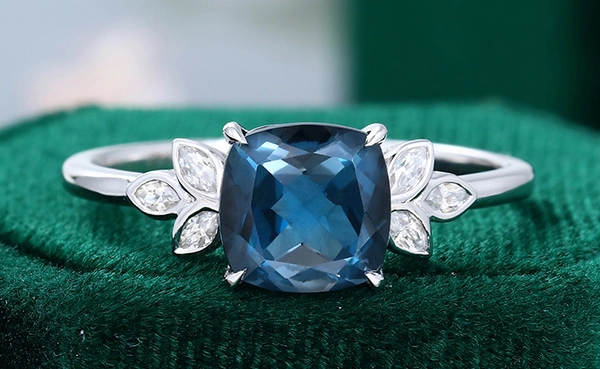 Conclusion
Ultimately, choosing between moissanite and topaz engagement rings comes down to personal priorities. If contemporary style, maximum brilliance, and elaborate custom designs are key, moissanite is likely the winner. But radiant topaz may be the perfect fit if you value natural origins, symbolic meaning, and vintage looks.
Whichever alternative gemstone you select, have fun breaking tradition to find the ring that genuinely reflects your love. An informed decision will lead you to the right gem, symbolizing your relationship. Here's to a lifetime of joy, marked by a ring that perfectly captures your unique beauty!
Read More