Navigation
Introduction
Moissanite rings have long suffered from unfair stereotypes. To many, they are seen as merely a cheap imitation of diamonds, lacking the prestige and nobility of the "real thing". Some even dismiss moissanite rings as tacky or low-class. But these judgments could not be further from the truth.
Moissanite is a rare mineral that was first discovered in 1893 by Nobel Prize winner Dr. Henri Moissan. It is incredibly scarce, so most moissanite used in jewelry today is laboratory-grown.
How does moissanite compare specifically to traditional diamonds?
There are a few key differences:
Hardness: Moissanite has a hardness of 9.25 while diamonds rate 10 on the Mohs scale. Both are extremely durable for everyday wear.
Brilliance: The refractive index of moissanite is higher than a diamond, meaning it has more brilliance and fire. Well-cut moissanite stones can appear brighter than diamonds.
Color: Moissanite typically exhibits a colorless to near-colorless appearance similar to higher-quality diamonds. However, moissanite also comes in vivid colored options, unlike diamond.
Cost: One of the most notable contrasts is cost. Similar-sized, quality moissanite gems retail for about 10% of the cost of a diamond. This makes moissanite far more affordable.
As you can see, moissanite competes well with traditional diamonds in terms of beauty, durability, and sustainability. It's an innovative alternative for modern consumers.

Dispelling misconceptions
Despite moissanite's merits, many unfounded misconceptions still surround this unique gemstone. Let's examine and dispel some of the most common moissanite myths:
Myth 1: Moissanite is just a cheap diamond imitation and not environmentally friendly.
Truth: While moissanite does share several diamond-like qualities, it has its distinct chemical composition and structure. Moissanite is composed of silicon carbide, while diamonds are pure carbon. Their crystalline structures are also different under a microscope. Moissanite deserves to be appreciated for its high hardness, not simply compared as an imitation of diamond. Moissanite's production has less environmental impact than diamond mining. Moissanite is considered one of the more eco-friendly gemstones.

Myth 2: Moissanite isn't durable enough for engagement rings.
Truth: With a hardness of 9.25 out of 10 on the Mohs hardness scale, moissanite is extremely durable. It exceeds the hardness of all other gemstones except diamonds. This makes moissanite more than resistant enough for daily wear in engagement rings and other jewelry pieces. While diamonds rate a 10 on the Mohs scale, the difference between 9.25 and 10 is unnoticeable in practical everyday durability.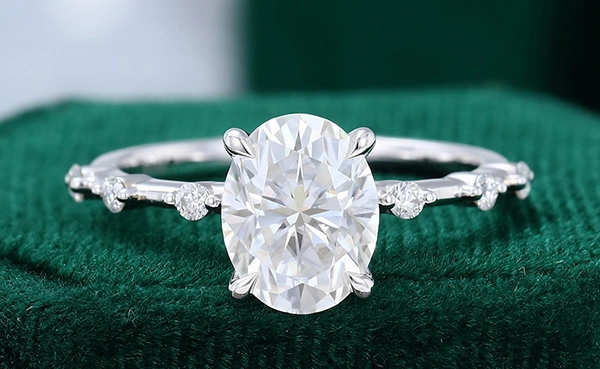 Myth 3: Moissanite engagement rings aren't as beautiful as diamond rings.
Truth: Moissanite has a fiery brilliance unmatched by any gemstone except diamond. It has a refractive index of 2.65-2.69, producing exceptional scintillation and sparkle. Well-cut moissanite stones have beauty comparable to diamonds, with a more affordable price tag. The play of light in moissanite can sometimes exceed that of a diamond.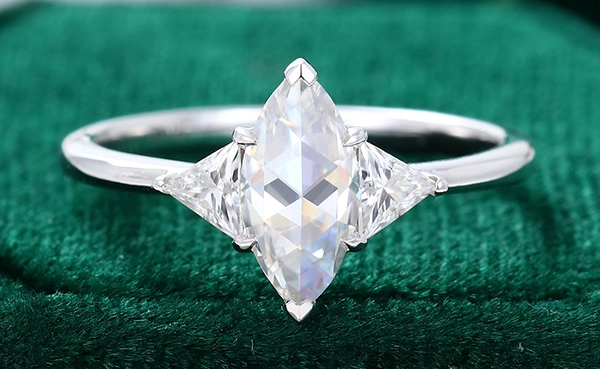 Myth 4: Moissanite is cheaper than diamonds so it has no resale value.
Truth: While moissanite may not have the same inflated resale value as diamond in some markets, quality moissanite gems and rings can still retain reasonable value in the secondary market. Many savvy buyers actively seek out moissanite jewelry for its beauty and affordability. As moissanite becomes more mainstream, demand in secondary markets is likely to increase.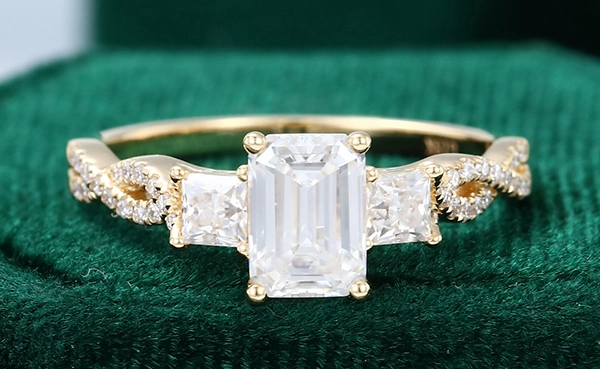 Moissanite provides brilliance and durability similar to diamond but at a much lower cost. Its hardness and refractive properties give it a unique advantage over other gemstones as an affordable diamond alternative.
Conclusion
It's time to retire the old stereotypes that plague moissanite gemstones. From their unparalleled brilliance to their environmental sustainability, moissanite gems have many advantages that shouldn't be overlooked. While diamonds will always have significance in engagement rings, moissanite also can symbolize one's commitment, love, and personal aesthetic. Next time you encounter this innovative gemstone, give it the appreciation it deserves instead of writing it off. The world of moissanite rings has so much more depth beyond the tacky stereotypes.
Read More