Navigation
Introduction
Moissanite rings have surged in popularity over the last decade as stunning diamond alternatives. With their unparalleled brilliance and ethical origins, it's no wonder moissanite engagement rings and fashion rings are in high demand.
But for those investing in their first moissanite ring, one key question arises – which finger should you wear it on? The finger you select can impact comfort, functionality, and the overall look. Fortunately, with the versatility of moissanite styles today, you can find the perfect fit based on your lifestyle, abilities, and aesthetic preferences.
This guide will walk through the pros, cons, and important considerations to find the optimal finger for your moissanite ring. Keep reading to learn ring finger traditions, innovative non-traditional choices, and factors from career demands to finger proportions to help select a flattering, practical fit.
Tradition and Symbolism of Ring Fingers
Rings, especially those symbolizing relationships, have traditionally been worn on the left 4th finger, between the pinky and middle finger. This is considered the 'ring finger' and has roots dating back to ancient Roman times.
The Romans believed this finger contained a special vein connected directly to the heart, called the vena amoris or 'vein of love.' While anatomy proves this false, the tradition stuck, making the left ring finger the standard for engagement and wedding rings.
Beyond that romantic myth, the left hand was associated with femininity as the more passive, receptive hand. So, the left ring finger became designated as the obvious placement for marital rings and commitment bands.
This tradition still rings true, with most diamond and moissanite engagement rings sitting on the left 4th finger. It provides an instantly recognizable symbol of relationship status.
While less common, the right 4th finger can also carry meaning. In some cultures, the right side symbolizes marriage, while the left is reserved for engagement. In the U.S., wearing a ring on the right 4th finger indicates being unattached or single.
Regarding other fingers, thumb, and middle finger rings have gained popularity in recent decades. These unconventional placements offer new possibilities for wearing rings in styles and stacks.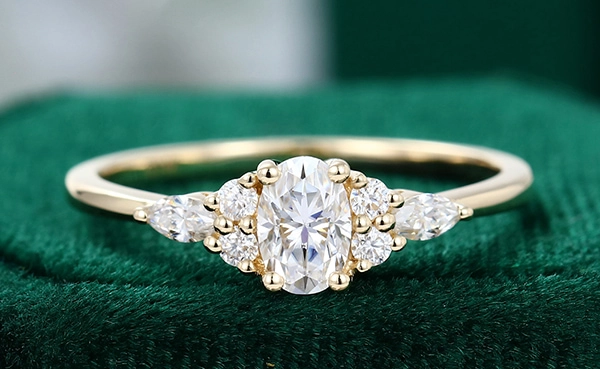 Lifestyle and Abilities
Beyond tradition, practical lifestyle factors should inform your moissanite ring decision. Your dominant hand, career, or hobbies can sway which finger provides the most comfort and functionality.
Dominant hand considerations of wearability and coordination are impacted by hand dominance. For most right-handed people, the left-hand offers better dexterity and finesse. The dominant right hand withstands more impact and motion.
This often makes the left hand the natural selection, allowing the ring to shine while the busier right-hand works.
But left-handers may prefer their opposite dominant hand, avoiding rings on the hand doing most activities. Wearing your ring on the opposite dominant hand can prevent potential damage.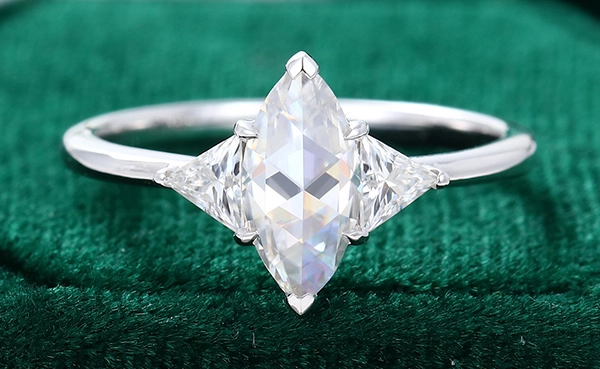 Career and Activity Factors
Occupation is another key factor, as some careers and hobbies make wearing a ring more perilous. For jobs requiring heavy manual labor, medical professionals, food service employees, and others may find a ring problematic or even hazardous on certain fingers.
Frequent typing can make rings uncomfortable on the pointer or middle fingers. Musicians may avoid rings on the hand operating instruments. Understanding your unique professional needs is vital.
If your career involves heavy activity, gloves, or hand impacts, the thumb often gives a safer area for wearing prominent rings.
But also consider occasions where rings need limiting – fitness workouts, outdoor adventures, swimming, etc.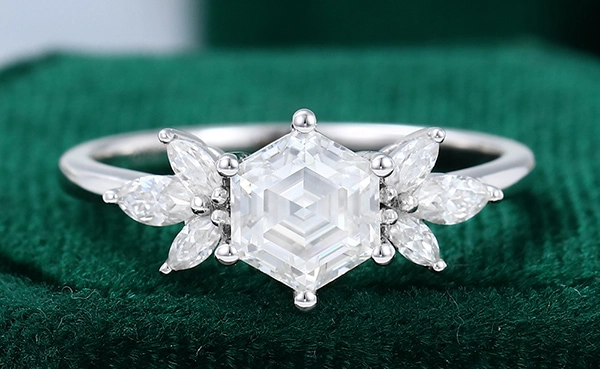 Ring Finger Options
Now that tradition and lifestyle factors are covered, it's time to explore the pros and cons of specific finger options. The top contenders each offer their benefits for showcasing your moissanite ring.
Left 4th finger: This undeniably classic choice comes with pros of traditional symbolism, prominence, and familiarity. It showcases the design beautifully for engagement or fashion rings. The left hand displays the ring elegantly, while the right-hand works.
Cons can include reduced mobility and a potentially confined fit between knuckles. But custom shaping or sizing can tailor fit. Hard impacts are also more likely on this passive hand.
Right 4th finger: The right 4th finger is a non-traditional yet increasingly popular placement, especially for fashion statement rings. It extends options for the dominant hand and keeps the ring in eyesight for admiration.
The downsides are the lack of classic symbolism and prominence on the working hand. The fit can also be trickier around knuckles and base joints used frequently in motion.
Thumbs: Thumb rings open new real estate and has become trendy for stacking and statement styles. They get noticed front and center. The thumb offers a wider, more comfy foundation for adjustable fit.
Visibility is a pro but may not suit professional settings. Range of motion can require sizing adjustments. Durability on a highly mobile finger must also be considered.
Middle or Pointer Fingers: These central fingers draw attention with bold gem rings stacked between knuckles. The middle finger especially highlights off-beat designs. Mobility is better, and knuckle-clearing shapes often fit comfortably.
The cons are reduced symbolism and prominence on a finger commonly used for gestures. Bulky stacks can impact typing, writing, and fine work. Durability is crucial with frequent motion.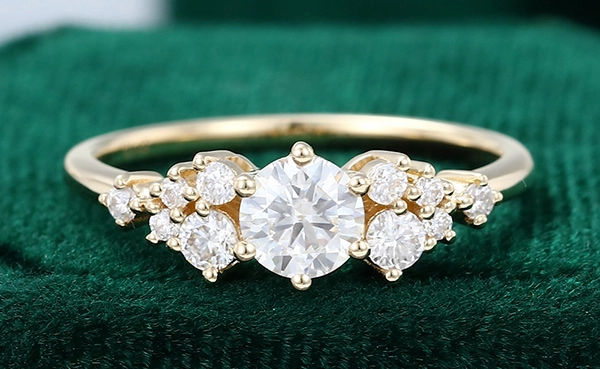 Aesthetic Preferences
Beyond practical factors, your style sensibilities play a role in choosing the most flattering finger. Certain aesthetic elements complement different digits' proportions.
Solitaire Styles: The 4th fingers best showcase solitaire moissanite rings, with a clear focal point on an elongated digit. Delicate to wide-set bands balance the finger nicely. Intricate single-stone designs also stand out on the 4th finger canvas.
Cluster and Stack Styles: The middle finger highlights cluster rings and vertically stacked styles. Multiple gems, shapes, or bands sit closely on the broader finger shape. The center draws the eye down the hand.
Finger Proportions and Shape: Just as finger length and shape vary on hands, so do the ring styles most suited to flatter those proportions. Oval and rounded fingers enhance contoured, oval moissanites. Narrow fingers pop with thin, tapered bands.
Shorter, squatter fingers: Balance with low-profile horizontal settings. Wide hands do well with substantial statement rings. Finding the most comfortable, proportional fit should guide finger selection.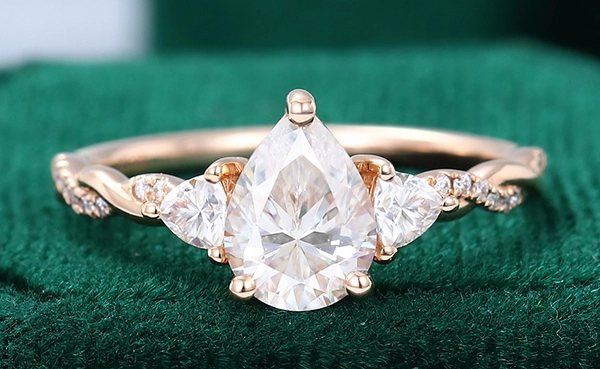 Conclusion
Tradition provides a classic starting point, but don't let it dictate your moissanite ring decision entirely. The most meaningful, enjoyable fit artfully balances your professional demands, abilities, aesthetic tastes, and the style of moissanite you select.
With an understanding of the pros and cons of each finger option covered here, identify your top priorities. Choose what speaks to you, whether you land on a traditional 4th finger placement or a more expressive thumb or middle finger.
Your finger choice represents so much more than passive tradition. It symbolizes ingenuity, personalization, and the chance to showcase your exceptional moissanite in the way only you can. Let your finger act as a statement about who you are.
Read More