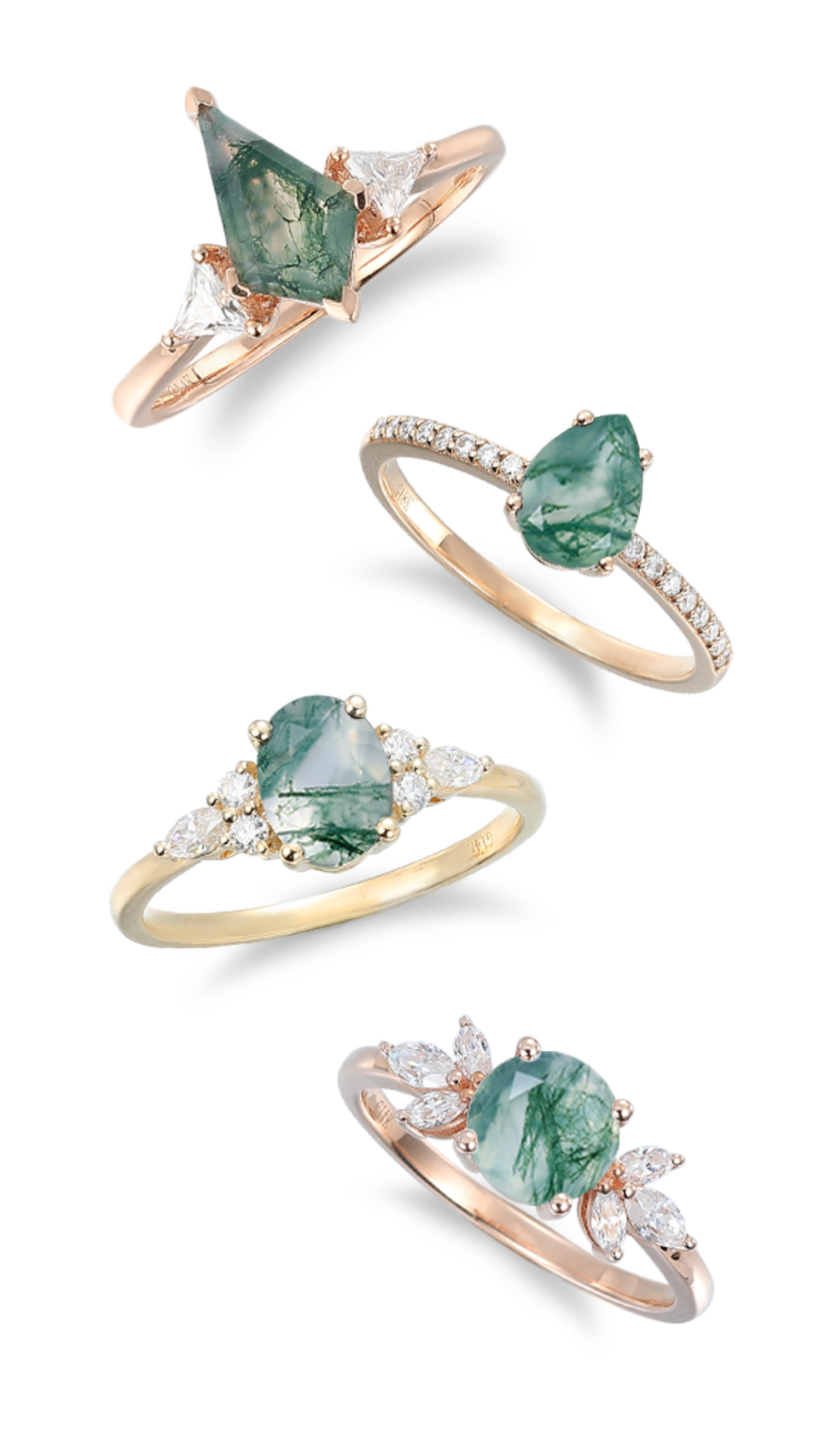 Most gemstones like moissanite and diamond have long been used for personal ornamentation. But for moss agate, people not only use it in the engagement ring. Some ancient cultures even viewed it as a healing stone. Learn different properties of moss agate here.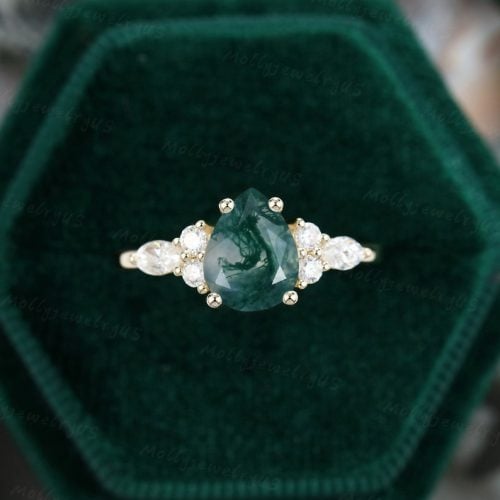 It is not a surprise that the plant-like appearance of moss agate influences the metaphysical properties of the stone. Moss agate is said to promote serenity and emotional balance. It also is the perfect stone for those who experience intense aggression or overly nourishing emotions, helping to balance male and female energies whenever they become too extreme. The calming scent of Moss Agate also helps bring us closer to nature and can bring a sense of concentration or patience when we need a break from the chaos of modern society.
Moss agate is not actually moss, nor is it pure agate, but the intriguing speckled patterns of creamy white, greenish-gray and black inclusions do have a moss-like appearance. Beautiful shades of green, ranging from sea green to deep forest green, seem to float on the translucent stone. Although the stone cannot be considered pure agate due to its lack of banding, it has the same chemical composition and intriguing patterns as agate. A variety of chalcedony, moss agate is a member of the quartz family and is often found as fragments of weathered volcanic rock, formed in fissures, or as pebbles, rather than in layers as with traditional agates.
The spreading, moss-like, dendritic inclusions seen in moss agates are usually manganese or iron oxides, and their color varies according to traces of minerals or metals such as chromium. Moss agates are found primarily in India, Brazil, Uruguay, Central Europe, and the western United States.
In addition to the general healing properties of Agate and chalcedony, moss agate is a stone of new beginnings. It is refreshing and allows you to see all the beauty.
Reduces sensitivity to weather and environmental pollutants. It attracts abundance and boosts self-esteem.
Develops strength and the ability to get along with people. It inspires new ideas in times of stagnation.
Promotes self-expression and communication.
Balances emotions and releases fear and stress.
Encourages trust and hope.
Eliminates depression caused by brain imbalance.
In addition to the general healing properties of Agate and chalcedony, moss agate is a stone of new beginnings. It is refreshing and allows you to see all the beauty.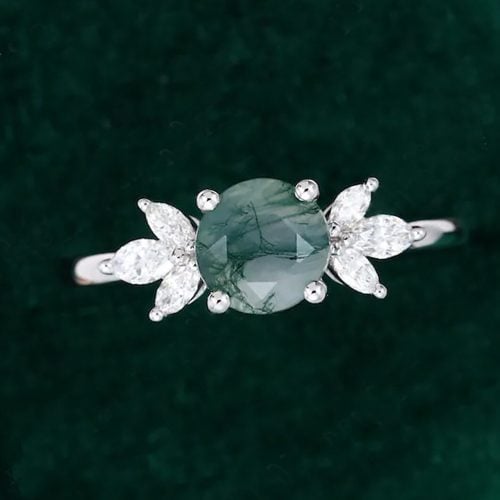 The stone can be found in the United States, Brazil, Canada, Uruguay, India, South Africa, Russia, and Australia, among other places.
Moss agate is the perfect birthstone for all Virgos. Known as the gemstone of new beginnings, moss agate is associated with prosperity and the release of deep-rooted creativity. Moss Agate can help Virgos step out of their box and be more creative, as they are very detail oriented and tend to be a little edgy.
It is also an excellent gemstone for strengthening personality, which is beneficial for those born under the sign of Virgo, as they often worry about how others perceive them. Moss Agate is the perfect gemstone for Virgos who want to walk the fine line between spiritual fulfilment and not closing themselves off to endless possibilities.
Cleaning and charging your moss agate gemstone will keep it humming with brilliant and lovely power. All gemstones need to be cleaned regularly to keep them resilient and charged with powerful frequencies. Gemstones can get blocked as they sweep up negative vibrations as necessary energy purifiers, but a simple cleansing method and a recharge can keep the joyful spirit humming.
Moss agate can be purified by cleansing it with herbs or sage, as both plants are very therapeutic and calming. You can also soak your moss agate in fresh water to remove negative energy. Another way to charge your moss agate is to keep it near bushes or other vegetation. This gemstone likes to stay in nature and enjoy its green friends.
Custom Your Own Moss Agate Engagement Ring
The rings you see on this page are all available for purchase on our website. Contact us to get your own ring.