Navigation
Introduction
Moissanite has grown in popularity as a luxurious and affordable alternative to diamonds for engagement rings and other jewelry. While just as brilliant, Moissanite has more "fire" – those rainbow flashes of light – that makes it distinctive. When choosing a moissanite stone, the cut is the most important factor, determining how well it reflects and refracts light. This article will overview the cuts available, considerations for selecting a cut, and specific details on the most popular options to help you pick the perfect moissanite cut for your ring.
Overview of Moissanite Cuts
Moissanite comes in a variety of cuts, similar to diamond. The main options include: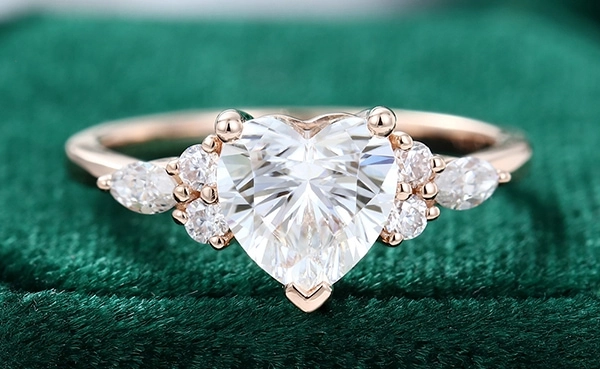 Factors to Consider When Choosing a Cut
When selecting a moissanite cut, consider the following:
Finger shape and size – Consider the length and width of the finger you'll wear the ring on. More modest-sized stones best complement delicate, shorter fingers in round, oval, or pear shapes. Larger or wider fingers can handle bolder shapes like emerald and pear cuts that elongate the finger. Match wider parts of the finger to wider parts of off-shaped stones.
Personal style – Consider your aesthetics and what cut will match your style. If you tend towards classic and traditional looks, round, princess, or cushion cuts may appeal. Contemporary, modern style enthusiasts will appreciate princess, radiant, or emerald cuts for their edgier shapes. Vintage aficionados will find oval, cushion, and round cuts most aligned with retro eras.
Occasion – When choosing a cut, consider the occasions you'll wear the ring. For everyday wear, prioritize durability with cuts like round, princess, or radiant with fewer vulnerable points. Cushion and oval cuts are more formal and elegant for special events or black tie affairs.
Complementing setting – Cuts should coordinate with the setting style. The simplicity of a solitaire setting gives the most spotlight to dazzling rounds and princess cuts. Intricate halo settings provide the perfect frame for heart, pear, or marquise cuts. More metal and embellishments pair well with busier, asymmetrical cuts versus minimal accents suit symmetrical cuts.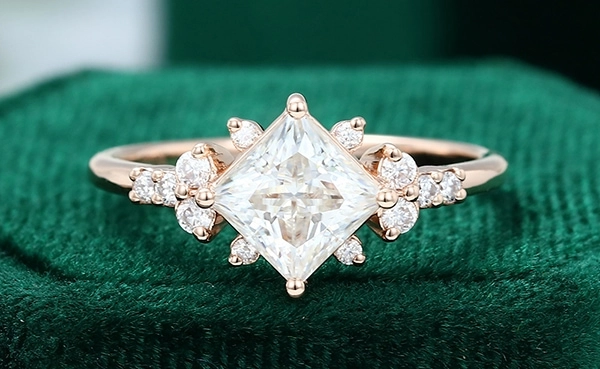 Tips for Evaluating Cut Quality
Cut goes beyond shape to consider facets and polish. Well-cut Moissanite should have excellent light performance, with balanced flash and brilliance. Here are tips for choosing a premium cut:
Symmetry – Facets should be aligned, not skewed or uneven
Polish – Should test as excellent, with no scratches or roughness
Table – Not too large or small for the cut style
Depth – Should avoid a too-shallow or deep silhouette
Girdle – Thin to medium suits most cuts
Culet – A small culet helps light spread evenly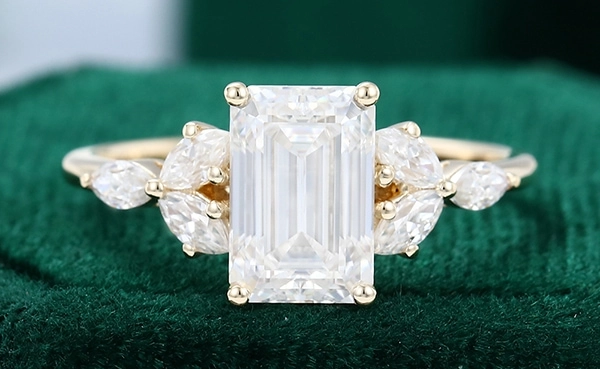 Pairing Your Moissanite Cut With a Setting
Settings can accentuate or distract from a center stone. Halo settings boost spread for rounds, as do split shanks on ovals. Prongs show princess cuts, while bezel settings offer cushion cuts and smooth framing. Shoulders studded with accent gems compliment busier shapes like pears or hearts. Curving bands echo oval and pear curves. Let your Moissanite cut inform the perfect complementary setting design.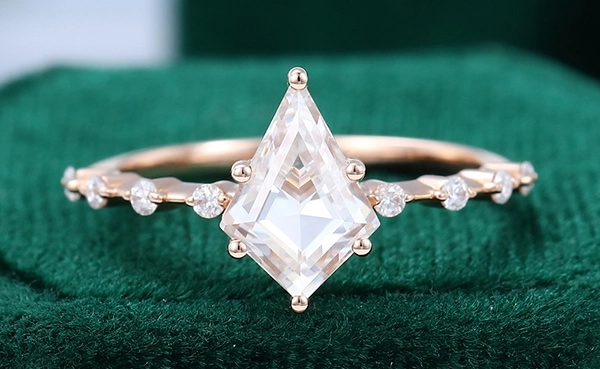 Conclusion
With many factors impacting its beauty, the cut is the most important decision when selecting Moissanite. Assess the shape, faceting, and workmanship to pick the stone that combines well-made craftsmanship with your style. Let this guide aid you in finding the perfect Moissanite cut for a ring that will stay cherished through years of wear. Your love deserves celebrating with the scintillating brilliance of a moissanite's ideal cut.
Read More