Navigation
Introduction
Emerald, the rich green gemstone, is the birthstone for May. Its vivid green color and rarity have made it one of the most coveted gemstones throughout history. Emerald rings are particularly popular for May birthdays and anniversaries, as the emerald's meaning and symbolism make it the perfect gift for love and commitment. This article will explore the history, meaning, and elegance of emerald rings, and why they make ideal May birthstone jewelry gifts.
The Beauty and History of Emeralds
Emeralds have been prized by royalty, the wealthy, and gemstone lovers for thousands of years. Some of the earliest known emeralds originated from Egypt and date back to 1500 BC. Cleopatra herself was known for her love of emeralds and often wore them. In ancient South America, emeralds were worshipped by the Incas and considered sacred. The deep green color of emeralds was thought to reflect life and growth.
Fine-quality emeralds are still rare today. They are mined in select locations like Colombia, Zambia, and Brazil. Natural flaws and inclusions in the stone create the emerald's coveted garden-like imperfections. The vibrant green comes from traces of chromium and vanadium. Emeralds range in shades from bluish-green to a more yellowish-green. The most prized emeralds have a deep green hue. For those who are environmentally conscious and ethically aware, lab emeralds are a perfect alternative.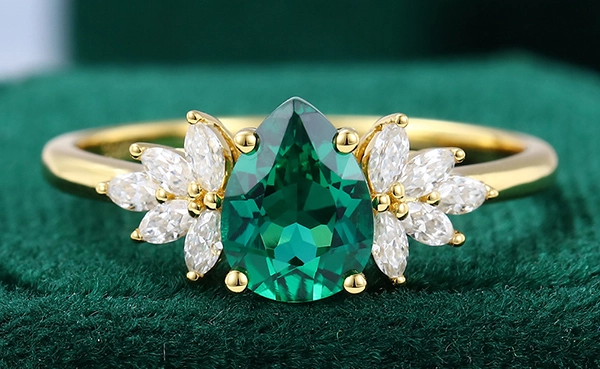 Meaning and Symbolism of the Emerald
With its lush and verdant color, the emerald is unsurprisingly associated with renewal, growth, peace, and harmony. It is thought to activate the heart chakra, clearing away negative energy and bringing freshness and vitality. Ancient Greeks dedicated the emerald to Venus, the goddess of love and beauty. For Romans, the emerald represented fertility and life.
In astrology, the emerald is linked to the zodiac sign Taurus. As the stone of Venus was ruled by Taurus, the emerald came to symbolize love, prosperity, and commitment. Its lush green color also reflects the earthy groundedness of Taurus. For those reasons, emerald became and remains a popular choice for engagement and anniversary rings. It signifies the growing, strengthening love between two people, as well as their pledge of fidelity.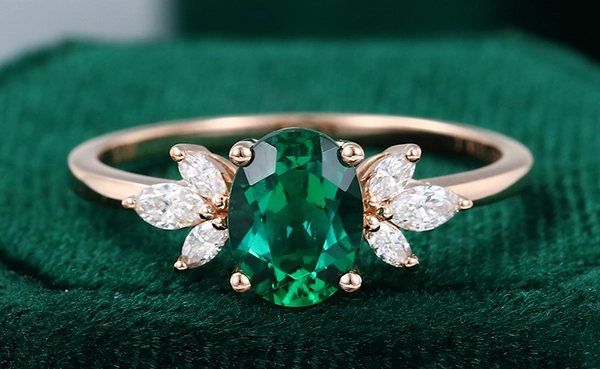 Elegant and Timeless Emerald Rings
The vivid green emerald has an understated elegance that shines in May birthstone rings and jewelry. While diamonds and white metals often serve as accents, emerald is the star in these rings. The style ranges from vintage to modern to suit personal taste.
Classic solitaire – A single emerald glitters in a simple setting with diamond side stones. This timeless style accentuates the emerald's beauty.
Art deco – Geometric lines, filigree, and baguette side stones give Art Deco emerald rings bold, vintage appeal.
Three stones – Two smaller emeralds or diamonds flank a center emerald for a trilogy ring representing past, present, and future.
Halo – A circle of small diamonds surrounds the center emerald for maximum sparkle.
Vintage – Filigree detailing, engraving, and old European cuts give vintage emerald rings a romantic, heirloom style.
Modern – Sleek bands with geometric shapes or nature motifs update the emerald for contemporary styles.
Stackable – Thin emerald bands or eternity rings work beautifully stacked together.
Emerald rings also come in a variety of metals. Yellow or rose gold pairs well with emerald's green tones. Platinum provides an elegant, neutral complement. Rings may use prong, bezel, or halo settings according to personal preference.
When selecting an emerald ring, examining the quality of the center stone is important. Look for a stone with deep, vivid color and few visible inclusions. Stones should have been oiled to minimize the appearance of fissures. With its stunning color, the emerald makes a top choice for an engagement ring or anniversary band. It is sure to be treasured for generations.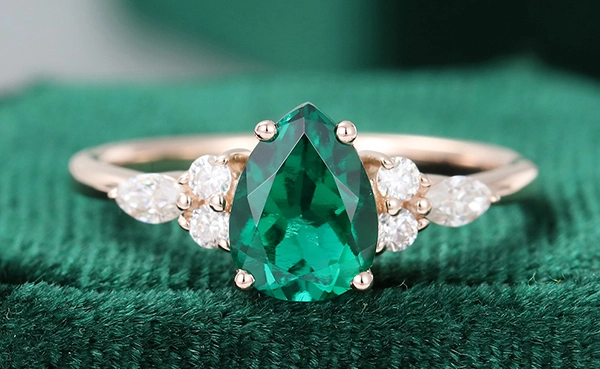 Gifting Emerald Jewelry for May Birthdays
Because of its rich symbolism, the emerald makes for a thoughtful May birthday gift. An emerald ring is sure to delight those born in May or celebrating a May anniversary. Here are gifting tips:
For milestone birthdays, consider an emerald surrounded by diamonds. Opt for a simple solitaire or three-stone ring for major milestones.
Vintage emerald rings suit history buffs. Find an Art Deco style ring for an admirer of old Hollywood glamor.
For wives and girlfriends, choose a modern emerald-cut halo ring. Surprise her with an engraved emerald band or eternity ring.
For jewelry lovers, give a stackable emerald eternity ring or thin emerald band to mix and match.
For eco-conscious friends, pick engagement rings made with lab emerald stones.
No matter their personal taste, an emerald May birthstone ring is sure to impress. Have the gift elegantly wrapped or presented for a memorable birthday surprise. With its rich color, beauty, and symbolism, the emerald ring makes the ultimate gift.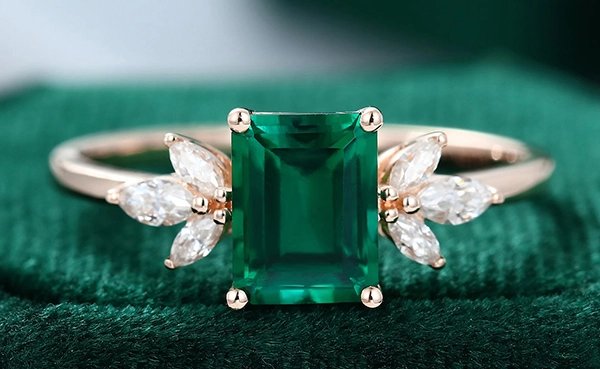 Conclusion
The emerald's vivid green allure has captivated people for centuries. As the traditional May birthstone, emerald rings celebrate spring renewal and lasting love. The emerald graces vintage to modern ring styles with its deep green elegance. Meaning hope and loyalty, it becomes a meaningful token of commitment. May babies and couples will cherish an emerald ring for years to come. Whether gifted or personally selected, emerald jewelry makes the perfect way to mark a May birthday or anniversary.
Read More