Navigation
October brings a splash of color and magic with its birthstone, the opal. Their shimmering rainbow hues have captivated people for centuries. Opal ring settings showcase the gem's mesmerizing light-play and are the perfect accessory for those born in October or anyone who wants an eye-catching, unique piece of jewelry.
A Brief History of Opals
Opals have been prized for their beauty for thousands of years. The ancient Romans associated opal with hope and good luck. During the Middle Ages, people believed opals could make their wearers immune to diseases or protect them from evil. Some even considered opal to have magical powers of foresight and prophecy. Royalty coveted opals, with kings and queens across Europe sporting opal jewelry. Even Queen Victoria was a fan of opals, giving acceptance to the gem and sparking a widespread 19th-century opal craze.
In more recent history, opals experienced a revival in the Art Nouveau period. The vibrant, colorful gemstones were a perfect match for the style's organic motifs. Today, around 95% of the world's opals originate from Australia, where opal mining began in the mid-1800s. The country produces unique varieties like black opal, matrix opal, and the official gemstone of New South Wales, the white opal.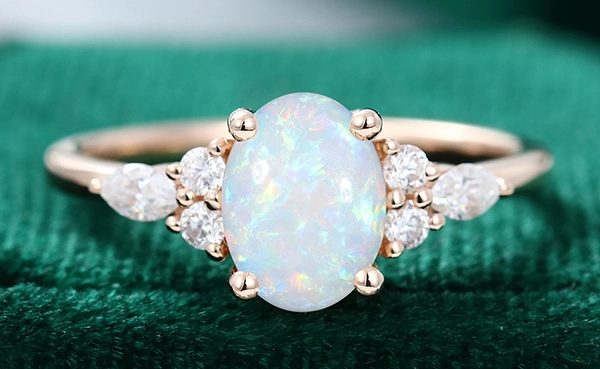 The Stunning Beauty of Opal
What makes opals so special that they have fascinated people for so long? Their signature play-of-color makes them stand out among other gemstones. As sunlight enters an opal, it refracts off the silica spheres within, splitting white light into the colors of the rainbow. Even a single opal can flash specks of green, orange, blue, violet, and yellow. The dancing display of color seems to glow from within and changes as the light shifts.
Opals also exhibit diverse patterns and backgrounds. Black opal is the most prized type, with bright colors flashing against a dark body tone. Crystal or white opals showcase color play against a light background. Fire opals are transparent to translucent oranges, yellows, or reds. Other varieties like boulder and matrix opals display color against host rock.
No two opals are exactly alike, making each one unique. Some stones exhibit a harlequin-like mosaic of color patches. Others have rolling, wispy color patterns that resemble clouds or water. The variety and mystery of how the opal will flash make it an exciting, one-of-a-kind gem.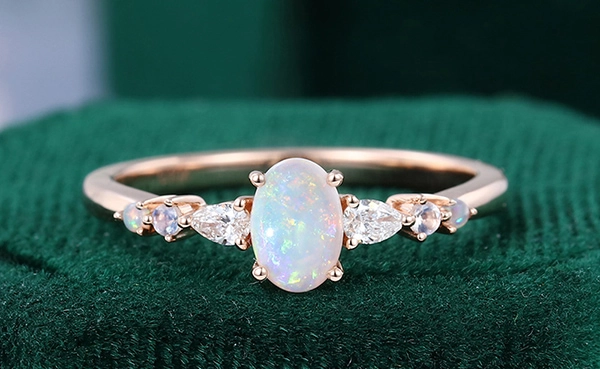 Opal Rings as Engagement Rings
Opals make for stunning, distinctive engagement ring stones. Their rainbow colors embody hopes for the future and make them a fitting symbol of love. Opal's rarity also makes it a meaningful choice for such an important occasion.
However, opals have a hardness of 5.5 to 6.5 on the Mohs hardness scale. Softer than diamonds or sapphires, they can be prone to chipping or cracking. Opal engagement rings require some extra care to safely wear every day. Choosing a bezel or halo setting that protects the opal edges can help prevent damage. Taking the ring off for household chores or physical activities can also keep the opal safe.
For those who find opal too soft for an engagement ring, there are alternatives that offer a gorgeous play of color. Moissanite, a lab-grown gemstone, also exhibits stunning flashes of rainbow color. With a hardness of 9.25, moissanite makes engagement rings that can withstand daily wear. Its impressive brilliance rivals diamond.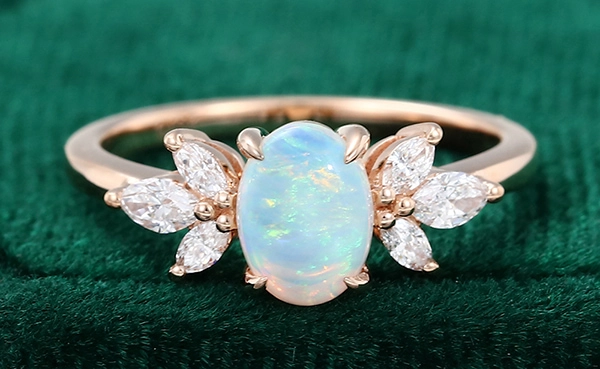 Things to Consider When Buying an Opal Ring
When shopping for an opal ring, there are several important factors to consider to find the very best stone:
Vibrant Play-of-Color – The play-of-color, or rainbow flashes of color, is what makes opals so prized. Look for stones that exhibit a vibrant, full spectrum of hues that pop against the background. Reds and greens are particularly rare and desirable but also watch for bright splashes of orange, yellow, blue, and violet. The best opals will showcase multiple bright colors dancing across the surface as the light shifts.
Pattern – The pattern of color across the opal is part of its unique beauty. Harlequin patterns feature an array of small color patches interspersed across the surface that create a mosaic effect. Rolling flash patterns have wispy bands of color that seem to roll across the opal-like waves. Broad flash stones have larger patches of color that are bolder and brighter. Evaluate the stone to find a pattern that personally appeals to you and stands out.
Body Tone – Black opal with a pure black body tone is the most rare and valuable variety. The dark background makes the colorful flashes stand out vividly. Be sure the body tone is a true black without any brown or gray overcast. Lighter body tones like crystal or white opal allow the play-of-color to shine as well, so don't rule out these varieties either.
Cut – The cut of the opal affects how well its play-of-color is displayed. A smooth cabochon cut enhances the color flashes and pattern. Cut quality factors like symmetry also maximize the stone's brilliance. Choose a stone with excellent polish and symmetry to get the best performance of light play.
Condition – Flaws like chips, cracks, or scratches negatively impact an opal's appearance and durability. Carefully examine stones under magnification to check for any imperfections that could detract from their beauty over time. Undamaged opals with superior cut will have the most stunning and lasting flash.
Settings – Protective settings like bezels and halos can shield the opal's fragile edges from chipping if knocked. Prongs leave the edges exposed but allow more light in to amplify color play. Consider your lifestyle and choose a setting that keeps the stone safe.
With careful selection, an opal ring can display mesmerizing rainbow colors for a lifetime of enjoyment. A vibrant stone in a protective setting will radiate lasting magic and beauty.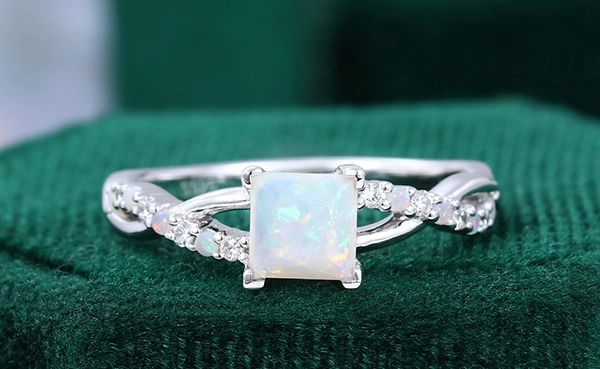 How to Care for Opal Rings?
Due to their delicate nature, opal rings require some special care and precautions to maintain their beautiful condition:
Avoid exposing opals to harsh chemicals that can seep into the stone and cause damage. This includes cleaners like bleach, acids, and solvents, as well as hair and beauty products like perfume, hairspray, lotions, and cosmetics. The moisture and chemicals can dull opal's play-of-color over time.
Use a soft, slightly damp cloth to gently wipe away any dirt or dust from an opal ring. Avoid submerging in water or using ultrasonic and steam cleaners which can penetrate fractures in the stone.
When not wearing your opal ring, store it separately from other jewelry to prevent scratches from harder gems that could mar the surface. Wrap opal rings in soft cloth or place them in a divided jewelry box.
Opal rings should be removed when doing physical labor, sports, gardening, or housework where the delicate stone could be impacted or knocked against hard surfaces. Even small blows can chip or fracture an opal.
Sudden temperature changes can wreak havoc on opals. Always avoid exposing opal rings to extreme heat or cold to prevent thermal shock cracking. Do not wear opal jewelry in hot tubs, saunas, or heated pools.
If an opal stone ever chips, cracks, or fractures, immediately bring it to a local jeweler for repair and to prevent the spread of damage. Avoid submerging the opal in water or liquids which could penetrate the fractures.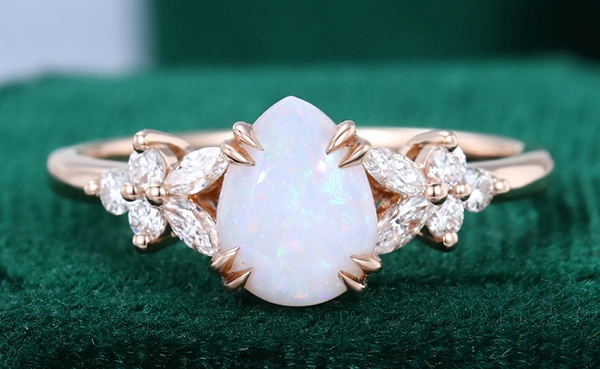 With proper care and precaution, the magical rainbow beauty of opal rings can endure for many generations. Handled with care, they become priceless heirlooms displaying an ever-changing kaleidoscope of color.
Read More