Navigation
Staying on top of the latest fashion and jewelry trends is an excellent way to make a style statement and express individuality. This year, moissanite engagement rings paired with Pantone's 2023 Color of the Year, Viva Magenta, offer a fashion-forward combination that will turn heads.
Introduction
In the world of fashion and design, it's important to keep your style fresh, current, and reflective of the latest innovations. An easy way to do this is by complementing your outfits and accessories with on-trend colors each season.
A moissanite engagement ring is one fashion-forward accessory that allows you to make a personal style statement. Moissanite rings have grown in popularity over the past decade thanks to their stunning brilliance and durability, at a fraction of the cost of traditional diamond rings.
Pairing moissanite rings with coordinated outfits featuring this year's top color trends creates eye-catching looks perfect for proposing, newlywed events, or any special occasion where you want to radiate contemporary style.
Overview of Moissanite Engagement Rings
For those unfamiliar, moissanite is a rare mineral gemstone discovered in 1893 by French Nobel Prize winner Dr. Henri Moissan. While naturally occurring moissanite is incredibly scarce, laboratory-grown moissanite possesses the same molecular structure and jewelry-grade quality.
With a higher refractive quality than diamond, moissanite stones exhibit unmatched fire and brilliance. Their radiance outperforms even the highest color and clarity-graded diamonds. From romantic cushion cuts to modern oval shapes, moissanite engagement rings make a dazzling style statement.
In addition to their optical qualities, moissanite gems rate 9.25 on the Mohs hardness scale, giving them durability to withstand daily wear. Combined with their affordability compared to diamond equivalents, it's no wonder moissanite engagement rings have become a top jewelry choice for fashion-savvy couples.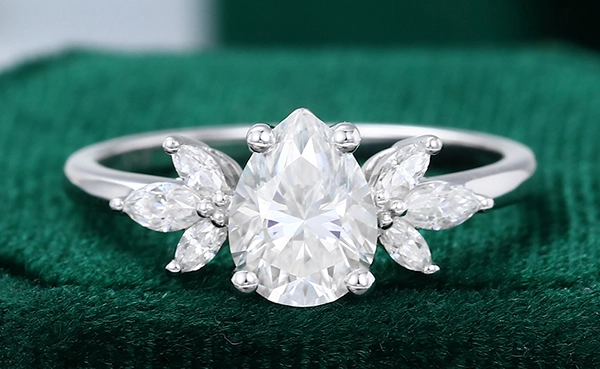 Pantone's 2023 Color of the Year – Viva Magenta
Pantone's Color Institute selects a standout shade as the Color of the Year each year. For 2023, Pantone has announced Viva Magenta – an empowering crimson red tone – as the color to watch.
Described as daring, joyful, and inclusive, Pantone 18-1750 Viva Magenta carries a rebellious spirit. This electric shade has a vitality that energizes and inspires fearlessly authentic self-expression.
Viva Magenta reflects the increasing appreciation for the natural world through its roots in cochineal dye, one of the most prized reddish-purple natural pigments. The raw power of this vivid color represents fortitude, strength, and empowerment.
Across the worlds of fashion, beauty, product design, and more, Pantone's 2023 Color of the Year will make a bold impact through styles integrating this standout hue.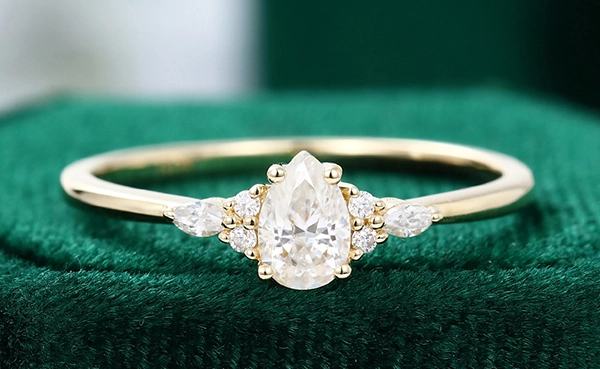 Coordinating With Viva Magenta
Want your ring to match the hottest color trend? Try incorporating pieces in Viva Magenta to complement your moissanite's dazzling flashes.
Stack a crimson or pink moissanite wedding band with your engagement ring for an eye-catching look. Pairing your brilliant moissanite engagement ring with a coordinating cherry red, magenta, or pink moissanite wedding band creates a stacked two-tone look. The alternating colors complement each other beautifully, with the vibrant red against the icy moissanite providing extreme visual interest and a show-stopping accent.
Add a Magenta dress, handbag, or heels, allowing solitaire moissanite to shine against an all-black outfit. An elegant way to make your dazzling solitaire moissanite ring a focal point is by setting it against an all-black ensemble. The moissanite's radiance and fire will truly stand out. Incorporate pops of Viva Magenta with a bold dress, chic heels, or sleek handbag to tie the look together and complement the Color of the Year trends.
Match vibrant moissanite necklaces with floral print dresses in shades of Magenta, fuchsia, or red. Floral print dresses in various shades of vivid pink and red perfectly pair with brilliant moissanite necklaces. The dynamic moissanite stones reflect light beautifully against the soft floral patterns. Choose floral dresses in coordinating hues like fuchsia, candy pink, crimson, or pure Magenta to complement your dazzling moissanite necklaces.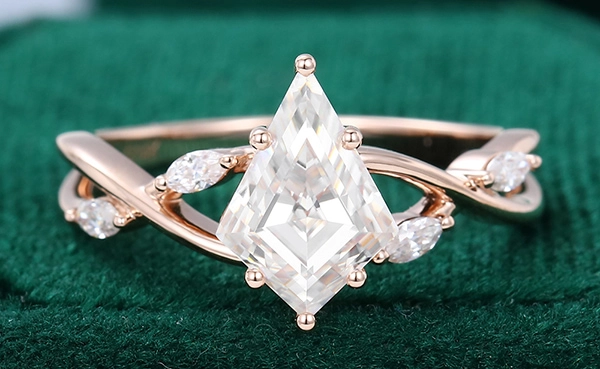 Complementing Other Leading Colors
Beyond Viva Magenta, moissanite rings pair beautifully with other forecasted fashion colors like:
Serene blue – The classic blue is a peaceful, gently vibrant hue that complements Moissanite's brilliance beautifully. Wearing serene blue dresses, tops, or accessories allows the mesmerizing facets of your moissanite ring to shine.
Pastel pink, mint, peach, and lavender – Pretty spring-like pastel shades like blush pink, mint green, peach, and soft lavender pair gorgeously with moissanite's icy sparkle. Pastels let the sparkle of your moissanite take the spotlight while contributing a soft, romantic vibe.
Earthy terracotta and sage green – Natural earth tones like rusty terracotta, olive, and sage green bring organic warmth to moissanite. As earthy backdrops, these rich hues make the crisp, colorless glimmer of moissanite pop.
Metallic bronzes and golds – Metallics like shimmering bronze, rose gold, and champagne gold make moissanite gleam even more brilliantly. The metallic sheen and prismatic moissanite interplay create a luxe, glamorous style statement.
Shades of a single-color family – Wearing complementary tones of one color, such as light pink to magenta, imparts a unified, monochromatic look. Moissanite picks up and reflects any color palette, taking your chosen shade up a sparkling notch.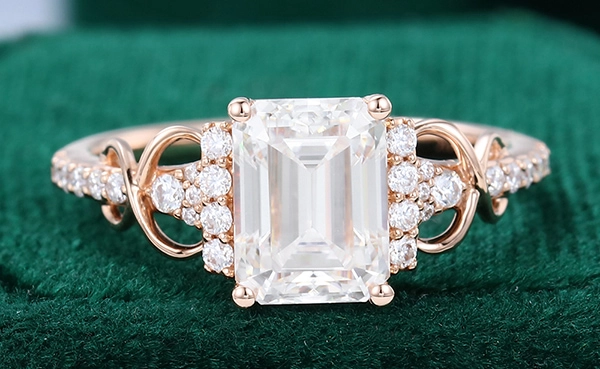 Styling Tips
Improve your color coordination by complementing your moissanite and attire with makeup and beauty trends that align with the Color of the Year's essence.
Paint your fingers, toes, or lips a signature Magenta hue. Coordinating your makeup with Viva Magenta or shades inspired by it pulls your look together beautifully. Painting your nails, toes, or lips a matching cherry red, fuchsia, or raspberry tone ties into the Color of the Year while letting your moissanite shine.
Try deep berry or copper eyeshadows to make the eyes pop. Complimentary makeup can accentuate your eyes. Eyeshadows in deep berry, burgundy, plum, or sparkling copper make your eye color pop. This draws attention upward and highlights your beautiful eye makeup and face next to your dazzling moissanite jewelry.
Wear Viva Magenta ombre or dip-dyed hair accents. Dyeing the tips of your hair or adding Magenta ombre effects is a trendy way to complement this season's color selection. Your hair's vivid pink tones will coordinate with your moissanite and any Viva Magenta clothing pieces you pair together.
Match a face-framing scarf or hat to pull together your proposal outfit. Accessories like a Magenta silk scarf or knitted hat in the Color of the Year provide the perfect finishing touch for your head-to-toe look. Coordinate these pieces with the rest of your outfit and moissanite jewelry for a complete, curated style.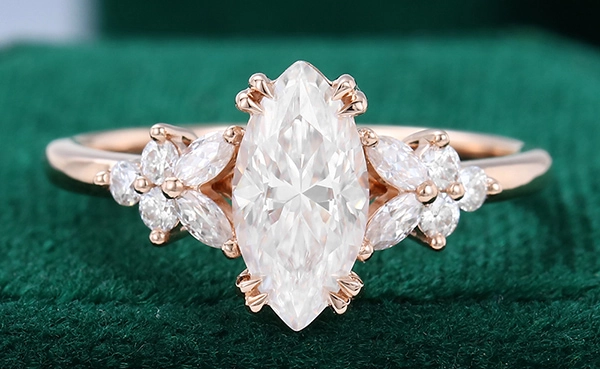 Conclusion
Exchanging moissanite engagement rings allows you to celebrate your love with a show-stopping style. Moissanite's supreme brilliance and affordable luxury complement this season's most fashionable colors for a contemporary, daring, and unmatched look.
Let moissanite help you stay on the leading edge of jewelry trends and showcase your unique flair. By coordinating with of-the-moment color palettes, your moissanite will make an unforgettable statement whenever you wear it.
Read More