Navigation
When your anniversary arrives, you want a gift that symbolizes your lasting love and commitment. Moissanite rings check all the boxes as the ideal anniversary present. With unparalleled brilliance, meaning, and affordability, moissanite is a sparkling way to honor your years together.
What Is Moissanite?
Moissanite is a rare, naturally occurring mineral gemstone discovered in 1893 by French Nobel Prize winner Dr. Henri Moissan. This mineral gem has incredible fire and brilliance that rival even the finest quality diamonds. As such, moissanite has become popular as an alternative to diamonds for engagement and wedding rings.
Unlike more costly diamond alternatives, high-quality moissanite gems of substantial size can fit into any anniversary gifting budget. The vibrant sparkle and life of moissanite make a bold and beautiful style statement.
Additionally, moissanite exceeds diamond in durability, with a hardness measuring just slightly below diamond on the Mohs scale. This gives moissanite excellent resilience against scratching, chipping, or breakage. Moissanite's ability to maintain its lasting sparkle and luster over time mirrors the endurance of an eternal relationship or union.
How Moissanite Compares to Diamond
Diamonds have traditionally been the go-to gems for engagement and wedding jewelry. But moissanite brings its own set of advantages. Here are three key areas where moissanite outperforms diamond and the advantages of moissanite:
Brightness and Fire – With a refractive index of 2.65-2.69, moissanite has a higher refractive quality than diamond (2.42). This allows moissanite stones to produce more brilliance and fire than diamonds, resulting in an exceptional light display with unmatched dazzling sparkle.
Durability – On the Mohs hardness scale, moissanite scores 9.25 compared to diamond, which scores 10. This makes moissanite more durable than all other jewels except diamond. With this level of hardness, moissanite can withstand daily wear, making it suitable for jewelry that is worn frequently.
Cost – Large, clear moissanite gems of equivalent size and quality as diamond stones typically cost less of the price. This significant cost savings allows couples to purchase the engagement ring or wedding bands of their dreams while staying within a real-world budget.
Meaningful Symbolism – The qualities of moissanite hold symbolic meaning, making it a thoughtful and meaningful gift for anniversaries and other occasions.
Enduring love – Just as moissanite can withstand daily wear over time, real love and commitment in a relationship endure through the years. An eternal moissanite gift embodies this lasting devotion.
Strengthening bonds – Like diamonds, moissanite is forged under immense pressure. Giving a moissanite gift signifies a relationship growing stronger through life's trials and tribulations.
Everlasting sparkle – With proper care, moissanite retains its brilliance and fire over time. Its enduring sparkle reflects a love that continues glowing brightly even after decades spent together.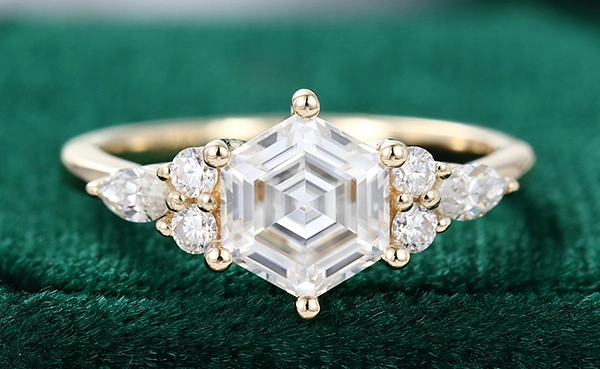 Moissanite Ring Styles for Every Anniversary
Moissanite rings come in a variety of styles, perfect for anniversaries. Whether your anniversary is the 1st or 50th, a moissanite ring commemorates the milestone.
Engagement rings – Moissanite engagement rings are a great option for an anniversary upgrade or recreation of your original engagement ring. Recapturing the magic of your engagement, moissanite allows for larger center stones and more intricate settings at an affordable price.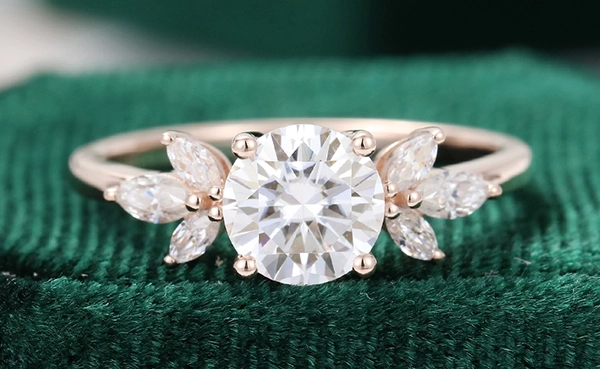 Wedding bands – Beautiful moissanite wedding bands come in various intricate styles that can perfectly complement and stack with your existing wedding ring set. A moissanite wedding band is a thoughtful gift to mark a special milestone.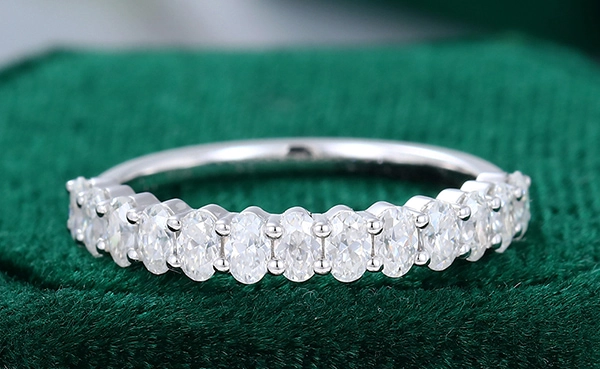 Bridal sets – Modern moissanite bridal sets feature stunning combinations of engagement rings and coordinating wedding bands embellished with moissanite stones. Bridal sets make an impressive anniversary gift to renew vows and symbolize your growing, enduring love.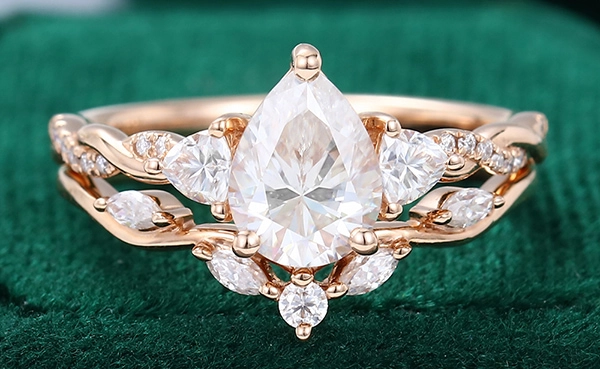 Gemstone rings – Moissanite solitaires and multi-stone rings create unique anniversary jewelry. Alternating moissanite with diamond or other precious gems allows for personalization and styling versatility. Gemstone moissanite rings are ideal anniversary gifts.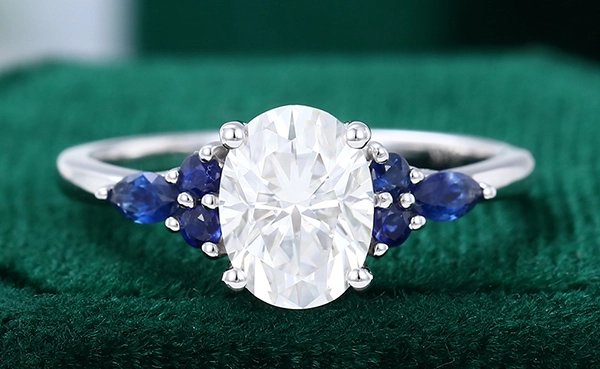 Picking the Perfect Moissanite Gift Ring
When selecting a moissanite anniversary ring, keep the following tips in mind:
Complement their style – Consider their jewelry style, whether modern, vintage, minimalist, etc. Selecting a moissanite ring that fits their aesthetic and taste shows thoughtfulness and care when choosing the perfect gift.
Reflect on the relationship – Consider special motifs, shapes, or symbols representing your love story and relationship milestones. Incorporating these meaningful details into a custom moissanite ring design makes the gift more heartfelt and sentimental.
Curate a gift set – Going beyond just the ring and creating an entire sparkling moissanite gift set can make the present even more special. Matching the metals and coordinating the shapes of the moissanite stones in a ring, necklace, and earring set elevates the gift.
Presentation matters – Enhance the gift-giving experience with thoughtful presentation touches. A custom ring box, gift card with a note, and coordinated wrapping paper make gift-giving memorable and show the importance of the occasion.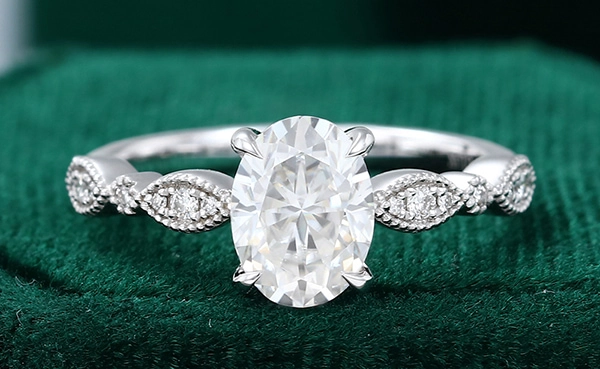 Conclusion
Moissanite is an ideal gemstone choice for anniversary jewelry gifts. Moissanite rings check all the boxes in meaningfully commemorating such a relationship milestone.
The dazzling beauty and durability of moissanite capture the essence of an enduring, lifelong love. The symbolic meaning behind the gem makes it especially thoughtful for honoring the journey of marriage.
On a practical level, moissanite provides more affordable options compared to diamond. Couples can select grand and elegant anniversary jewelry that may otherwise be unattainable. There is no compromise on exquisite brilliance and captivating fire.
A moissanite anniversary ring is a sparkling reminder of cherished memories and bright moments yet to come. It can rekindle joy and romance within the marriage. A gift of moissanite jewelry will be beloved and worn for anniversaries for years to come.
Read More