Navigation
Introduction
Alexandrite and moissanite are precious gemstones for incredibly beautiful and unique engagement rings. Alexandrite is prized for its rare color-changing ability, while moissanite is beloved for its brilliance and affordability. But with key differences in availability, cost, and properties, which stone makes the better ring choice? This guide will compare the origins, durability, colors, costs, and ethical considerations of alexandrite vs. moissanite to help you decide between these stunning options for jewelry.
Key Differences Between Alexandrite and Moissanite
Alexandrite and moissanite have vastly different sources, rarities, and chemical properties that set them apart. Here are the major distinguishing factors:
Origins and Rarity – Natural alexandrite is an extremely rare stone in very limited quantities in Russia and Sri Lanka. This scarcity drastically increases the cost. Meanwhile, moissanite is abundantly produced in labs, making it far more affordable.
Hardness – On the Mohs scale, moissanite earns a hardness rating of 9 to 9.5, making it one of the most durable gemstones. Alexandrite is much softer, rating between 8 and 8.5. So, moissanite's superior hardness gives it better scratch resistance and durability for daily wear.
Color – The most distinctive feature of alexandrite is its remarkable color change. Natural light causes it to shift between green and red hues. Moissanite's main appeal lies in its incredible brilliance and fire. Refracting light powerfully, it flashes brightly with rainbow sparkles.
Cost – Scarce natural alexandrite commands exorbitant prices, from $5,000 per carat to $20,000+ for finer quality gems. Given moissanite's lab origins, it costs substantially less, averaging just $300 to $1000 per carat. Alexandrite's rarity makes it far pricier.
Sustainability – Moissanite has a clear environmental advantage. As a lab-created stone, it bypasses any mining impact. Alexandrite mining can disrupt communities and habitats, especially lower-quality supplies from Brazil and Tanzania. Overall, moissanite is the eco-friendly choice.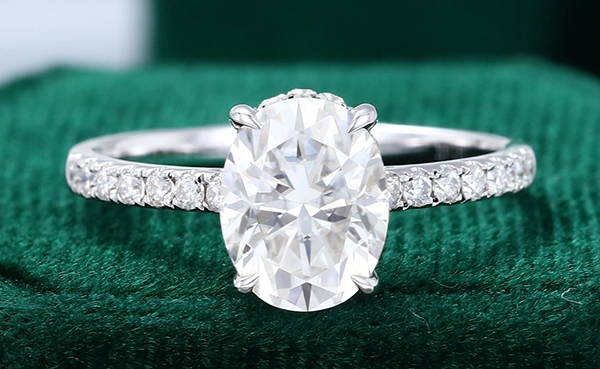 The Allure of Moissanite Rings
What qualities make moissanite so well-suited for engagement rings?
Properties – Moissanite has exceptional brilliance due to its high refractive index of 2.65 to 2.69. And as one of the hardest gemstones, it resists scratches and daily wear.
Creation Process – Moissanite is engineered in labs, growing silicon carbide crystals that mimic diamonds. This eliminates the environmental and ethical concerns of mining.
Brilliance – Moissanite outshines almost any gemstone with incredible refractive power, dispersing light as spectacular flashes and rainbow fire. The brightness and scintillation give it unmatched brilliance.
Durability – As an extremely hard material on the Mohs scale, moissanite makes an excellent choice for engagement rings and other jewelry subject to frequent wear. Its toughness preserves its beauty for the long term.
Value – Prices typically range from $300 to $1000 per carat. Given its comparable look to diamonds, moissanite provides exceptional value. It makes a stone look 10 times pricier for a fraction of the cost.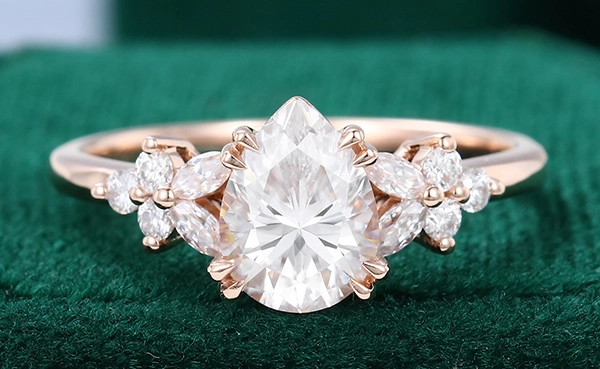 The Allure of Alexandrite Rings
Let's explore the unique properties and appeal of alexandrite rings:
Alexandrite Properties – Alexandrite exhibits a remarkable phenomenon called pleochroism, causing its color to shift based on light conditions. It appears green in daylight but morphs into a rich, raspberry red under incandescent light. This chameleon-like ability is unique among colored gemstones. Alexandrite also has a hardness of 8.5 and a high refractive index for excellent brilliance.
Cutting Style – The cutting style of an alexandrite ring must maximize the stone's color change abilities. Common cuts include the brilliant-style round, cushion, oval, emerald, and pear shapes. Alexandrite is often cut deeper to allow light to penetrate and bring out its pleochroism.
Sources – Natural alexandrite of fine color and quality primarily comes from a depleted Russian mine in the Ural Mountains. Lower-grade alexandrite can be found in Sri Lanka, Brazil, Zimbabwe, and Tanzania, but Russian gems fetch premium prices for their vivid color shifts.
Cost Factors – Given natural alexandrite's rarity, a 1-carat stone can cost anywhere from $5,000 to $20,000 depending on quality factors like the intensity of color change, clarity, and cut proportions. Ring settings with additional diamonds will also increase costs substantially. However, lab alexandrite is a popular choice for engagement rings due to its affordability and environmental friendliness.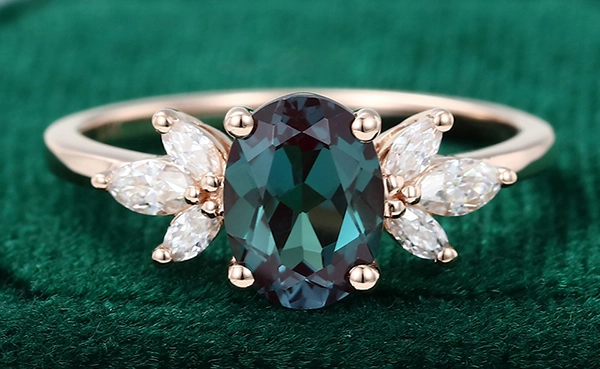 How to Choose Between Alexandrite and Moissanite Rings
Certain factors may steer you towards one stone or the other when selecting an engagement ring or jewelry:
Lifestyle Considerations – Assess your lifestyle. Alexandrite's softer hardness makes it less ideal for rugged, active wear. Moissanite's durability suits an everyday ring subject to potential bumps or scratches.
Budget – Alexandrite rings cost significantly more. If staying within budget is important, moissanite provides immense sparkle and beauty at a more affordable price point.
Ethical Preferences – Moissanite's eco-friendly origins in a lab may appeal if environmental impact is a concern. Alexandrite mining can disrupt communities and habitats in some sources.
Uniqueness – If you crave an exceptionally rare gem, alexandrite better fits this desire. Its distinctive color change is a genuinely unique trait. But moissanite still stands out for its immaculate brilliance.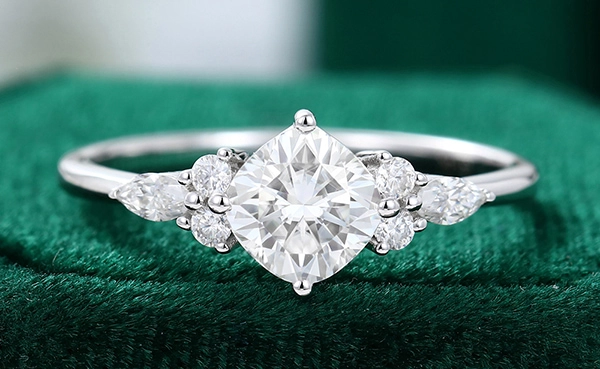 Conclusion
In the end, both alexandrite and moissanite make breathtaking, one-of-a-kind rings. Glowing with their distinct charm, neither is objectively better – it comes down to aligning qualities with preferences and lifestyle. If an incredibly rare stone captivates you, alexandrite's magic color-shifting allure may warrant the splurge. But for an equally stunning yet ethical and affordable alternative, moissanite radiates elegance and brilliance. When chosen mindfully, both stones make engagement ring traditions uniquely your own.
Read More